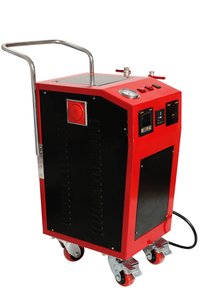 PORTABLE STEAM CLEANER
Product Description
In-depth understanding for global marketplace, we have devotedconsiderable amount of time to shape our manufacturing process with state ofthe art technology in all disciplines of engineering. We always keep in mindfor growth of production capacity with substantial investment in research anddevelopments. Our especially designed steam generators are well equippedwith all safety standards.
TYPICALAPPLICATIONS FOR STEAM CLEANER PRESSURE WASHERS
· engines, transmissions, drive trains,and other equipment prior to performing service and maintenance work.
· tanks prior to welding or othermaintenance work, especially gasoline, oil, and petrochemical tanks of allsizes.
· surfaces for painting, especiallyremoval of cutting oils, grease, and similar oily or greasy substances.
· dies and tools in manufacturingoperations.
· grease, oils, and substances fromsurfaces and equipment in processing plants.
· Wide range of otherspecialty applications.